Bannockburn Swim Club's 2019 season opened with a splashing Memorial Day celebration. King Neptune led the bike parade, High Energy provided a mellow soundtrack, everyone enjoyed the burgers and dogs, not to mention the jello-eating contest. Even the weather went, well, swimmingly.  Thanks to "king" Roland Backhaus; music-organizer John Martin; food procurer, jello-maker and organizer extraordinaire Tanya Sisler; vegetable-slicer-cum-servers
Patty Howie and Meredith Griggs; and grill guys Larry Kessner, Paul Lall, Mark Sincevich,
Alex Wassiliew, and John Wills.
And more is in store this season.
The board has voted to set up a trial snack bar.  Run by the lifeguards, for cash only, it will offer Good Humor ice cream, drinks, and packaged snacks. Be sure to let board members know how you like it.
Operating Schedule Change This Week 
Friday June 14 — Pool opens later at 4PM because of Bannockburn Elementary School private party event.
Early Bird & Extended Operating Hours 
We're pleased to offer early bird swimming now and slightly longer swimming hours after school is out:
6:30 – 8:30 am:  early bird swim weekdays, starting June 10
10:30 am – 8:30 pm:  every day, starting June 17 
End-of-School Raft Night Celebration and Food Truck This Saturday, June 15
Did your kids miss our first raft night? Fear not: we have another one that will be bigger and better. Round one featured sting rays, unicorns, pizza, watermelon, popsicles, donuts, swans, alligators, and flamingo rafts. Round two calls for more zany rafts. So grab yours and join us this Saturday, 6-7PM. There are plenty of electric pumps that parents will gladly share so you can inflate that last-minute raft purchase onsite.  The Ice Guys will be onsite near the picnic tables selling shaved ice and in the parking lot we'll have Roaming Roster food truck from 5-8PM — dinner for the whole family. Check out their menu here.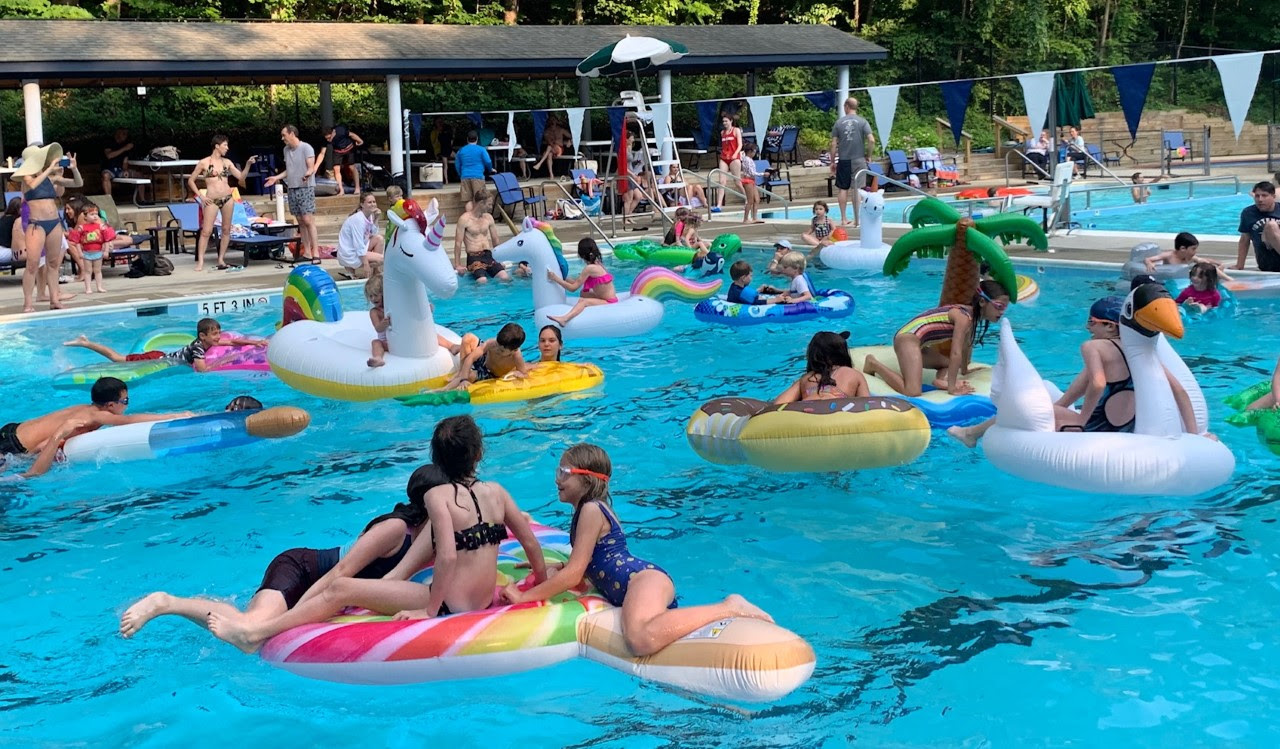 Save the Date
July 13 for the adults only Crab Feast.  More to follow in the next newsletter.
Who's who at the Pool
"Summer swimming is unique. It's less about winning and losing and more about just getting better." This reflection comes from Florida native Jason Tillotson, 21, who takes over this year as BSC's head coach, after two past seasons as assistant head. Already popular with his swimmers, Jason is superbly qualified. In addition to his previous summers at Bannockburn, he works for the Nation's Capital Swim Club and has coached for Master's swimming at American University, where he graduated with a degree in broadcast journalism. Although he currently coaches full time, he keeps his hand in the journalism world by writing for Swimming World magazine and has proposed a podcast to the new International Swim League. Speaking about the 2019 season, Jason notes that BSC, for the first time in about 10 years, is one of only two teams in Division E to have moved up."It's a more challenging level, but I think we're prepared." Jason adds that he has full faith in the coaching team he manages and that he hopes "members of the community—whether they swim or not—will come down and support us."

Swim Lessons
Whether for your children just learning how to swim, your teenagers interested in improving their techniques, or you in "remembering" how to backstroke, our swim coaches and lifeguards are available for lessons.  We offer both private and group lessons.  For more information and to sign up, go here.  With school out and pool hours expanding starting Monday June 17, signing up online will allow our instructors more flexibility in scheduling lessons.
Swim Team Meets @ Home 
This month we'll be hosting two swim team meets at home on June 22 from 8:00AM to noon and June 26 from 6:00 to 8:30PM.  Even if your kids aren't on the swim team, come and cheer on the Dolphins.
Dive Team
Dive Team registration is still open.  No experience needed.  Check out more here.
Adult Stroke Improvement Clinic
Starting Tuesday, June 18, coaches will be available Tuesdays and Thursdays 10:00 to 10:30AM to give members tips on swimming better, faster, or more efficiently. Cost is $15 per person, payable to coach in cash each time. At least three people are needed for the sessions to run. These clinics have been popular in two previous summers, and we're grateful to coach Jason for making them available this year.
Private Parties at the Pool 
When bringing ten or more guests, please complete this online request form so we can check our schedule.  We ask that you make a party request two to three weeks before your event.
Guest Passes 
Members can purchase guest passes at the pool front desk or by accessing their account online and paying via PayPal or check.  Our front desk staff cannot accept cash payments at any time.  Please check your guest pass credits often in your account to ensure you have sufficient credit to cover parties and guest entrance fees.
Lost and Found 
Our lost and found is growing.  Please take time to check out the lost-and-found area located on the shelves in the baby pool enclosure.  Anything not collected by the end of each month will be donated to animal shelters (towels) or charity.  Also, if your child has lost goggles, please look in the white bucket on the counter behind the front desk near the restroom entrances as you leave the pool.
Reminder to Use Trash Barrels 
Please make sure to clean up after snacks and meals. To keep the pool neat at all times, please put all ice cream and snack wrappers in trash cans, bottles in recycling bins, and wipe up spills on picnic tables. This will help guards focus on their real jobs of keeping swimmers safe and not on picking up trash around the pool.
---
"An outdoor fifty-meter expanse of water shimmers with the same kind of American dream that football fields and baseball diamonds do. Lines are crisp and colors are primary: swimming-pool blue, touchpad yellow, striped lane ropes, red and yellow flags."
Swimming Studies
Leanne Shapton