Now at Mid-Season
The joy of summer swimming is only half over. Meets are well under way, and family activities continue through July. From 6:30 in the morning until 8:30 at night, you can enjoy four different pool areas and the new grill and snack bar. Or just come down to detach, hang up, log off, and disconnect. Read a book, look at the woods, chat with your friends, buy an ice cream. And of course jump in the water.
Early Closing July 10 
This Wednesday, July 10, the pool will close early— at 5 pm— so we can host a swim meet against Mohican.  Members are welcome to come out and cheer on the Dolphins.
Crab Feast Postponed
The Crab Feast scheduled for July 13 has been postponed.  We will communicate a new date shortly.  For those who can't make the new date and already purchased tickets we will issue a full refund.
Friends & Family Guests Free All Weekend July 26-28
Have friends, family, or a new neighbor who might want to check out our pool and join for the late season or next summer?  Bring up to six people—free of charge—all weekend long July 26 – 28. Parties of ten or more will not be permitted that weekend, but you can fill out a 
party request application
 for another weekend.
Our Next Raft Night July 27 5:00-6:00 pm
Our raft nights have become the talk of the town and are a big hit with kids of all ages.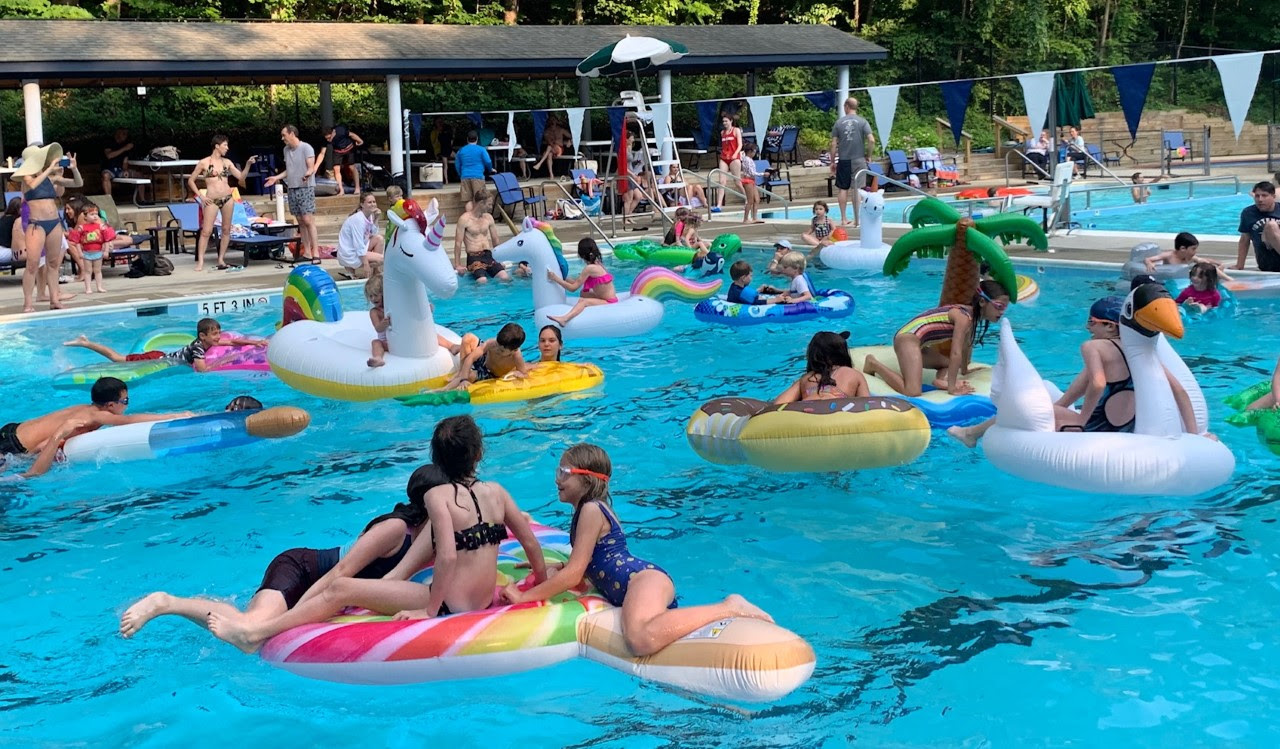 Newcomers Happy Hour July 27 6:00 – 7:00 pm
Please join pool board members by the bar and grill area for a drink and light appetizers.  Old and new members are most welcome.
Late-Season Memberships Available
We still have some late-summer memberships available, so share this email with your friends if you think they would like to sign up. Check out this link for information about cost, dates, and privileges.  One of the perks of late season is that, like all Bannockburn members, late-season members can use the Mohican pool after we close September 8 until mid-October.
Who's Who at the Pool
Danielle. That's her real name, but who knew.  Better known as Cookie, she was so called because her grandmother said she had a face as round as a cookie. And as she says, "it
stuck." We know her as a longtime pool denizen: first as a lifeguard helper, then assistant guard at age 15, now at 19 as pool operator, guard, member of the original 2015 diving team, and currently head diving coach. Cookie is one of three Lair Ferraris at BSC, Malena having been head coach and Andy now a substitute pool operator. Away from the chlorine, Cookie studies Communications Design, which includes graphic and web design, apps, and marketing, at The New School, Parsons in New York, now in her second year, after graduating from the German School. About the 2019 dive team, Cookie says, "I'm very happy with our success this year—two wins. The 24-member team is very strong." We are fortunate to have Cookie back this season.
New Board Members Sought
Much to our regret, President John Wills and three other board members will be stepping down in December after having served for five and maximum six year terms.
We therefore have four available board slots to fill.  In particular, we are seeking board members to help with our website, draft newsletters, and help organize social activities.  But as long as the person is active, committed, and comes with new ideas, we're open to anyone interested.
We will soon be forming a nominating committee of one board member and two nonboard people. Please email info@bannockburnpool.com to nominate yourself or someone else—either for the board or for the nominating committee.  We will hold a vote for all members in January at the annual pool meeting.  The pool board is a good way to meet new people, and the community depends on an active board to keep the pool running well.
Water Aerobics Again Super Popular
The first water aerobics class of the season attracted 17 participants. Instructor Marianne Ross pictured first row, center.


Our No Glass Policy 
Please do not to bring glass of any kind into the pool.  This includes wine bottles, beer bottles, casserole dishes, etc. At Mohican a member sneaked glass in, it broke, and despite their best cleanup efforts, a barefoot member got a glass shard in his foot.  Everyone at our pool walks around barefoot. We'd hate to see a small child get cut.  Don't be the member to have your glass confiscated for breaking this critical safety rule.
Baby Pool Area – Parent Supervision Required  
You must watch your children when they are playing inside the baby pool enclosure. This area is not supervised by either lifeguards or pool staff. Recently, an unsupervised small child fell off the retaining wall in that area.   Please note also that this area will be closed for swim and play during all upcoming swim meets.
---
"Breastroke is an athletic event; butterfly is a political statement."
Paul Tsongas