Pool News — June 10, 2022
School's almost out for summer!!  The pool will be expanding our hours starting June 20 to coincide with the ending of Montgomery County schools on June 17. Congrats to all our young swimmers for having a great school year.
Here is a revised schedule beginning June 20 which is also on the landing page of our website:
Pool Schedule June 20 – Late July
Weekdays
| | |
| --- | --- |
| 6:30am – 8:30am | Adults Only Early Bird Swimming |
| 7:30 – 8:30 am | Free Adults Level 1 Pilates Class Every Wednesday |
| 11:00 – 11:45 am | Free Adult Water Aerobics, Mondays & Thursdays |
| 10:30 am to 8:00 pm | Open recreation swim |
| 3:30 to 6:30 pm | Weekdays. Swim team practice. Limited lap lanes for members. |
| 6:30 to 8:30 pm | Weekdays. Dive Team practice |
Weekends and Holidays
| | |
| --- | --- |
|  10:30 am to 8:00 pm |  Open recreational swim |
Delayed Openings & Early Closures Due to Swim & Dive Team Home Meets
Our swim and dive teams are busy practicing daily and we wanted to alert you to a few revisions to our operating hours based on some of their upcoming home meets.  As always we encourage you to check the calendar to get the latest information before heading to the pool.
Photo Scavenger Hunt
A very big shout out to our Team Shadow photo scavenger hunt winners Rhodes Conrad and Yuriko and Michiko Suwas. They found photos and clues that no other team was able to locate. Way to go!!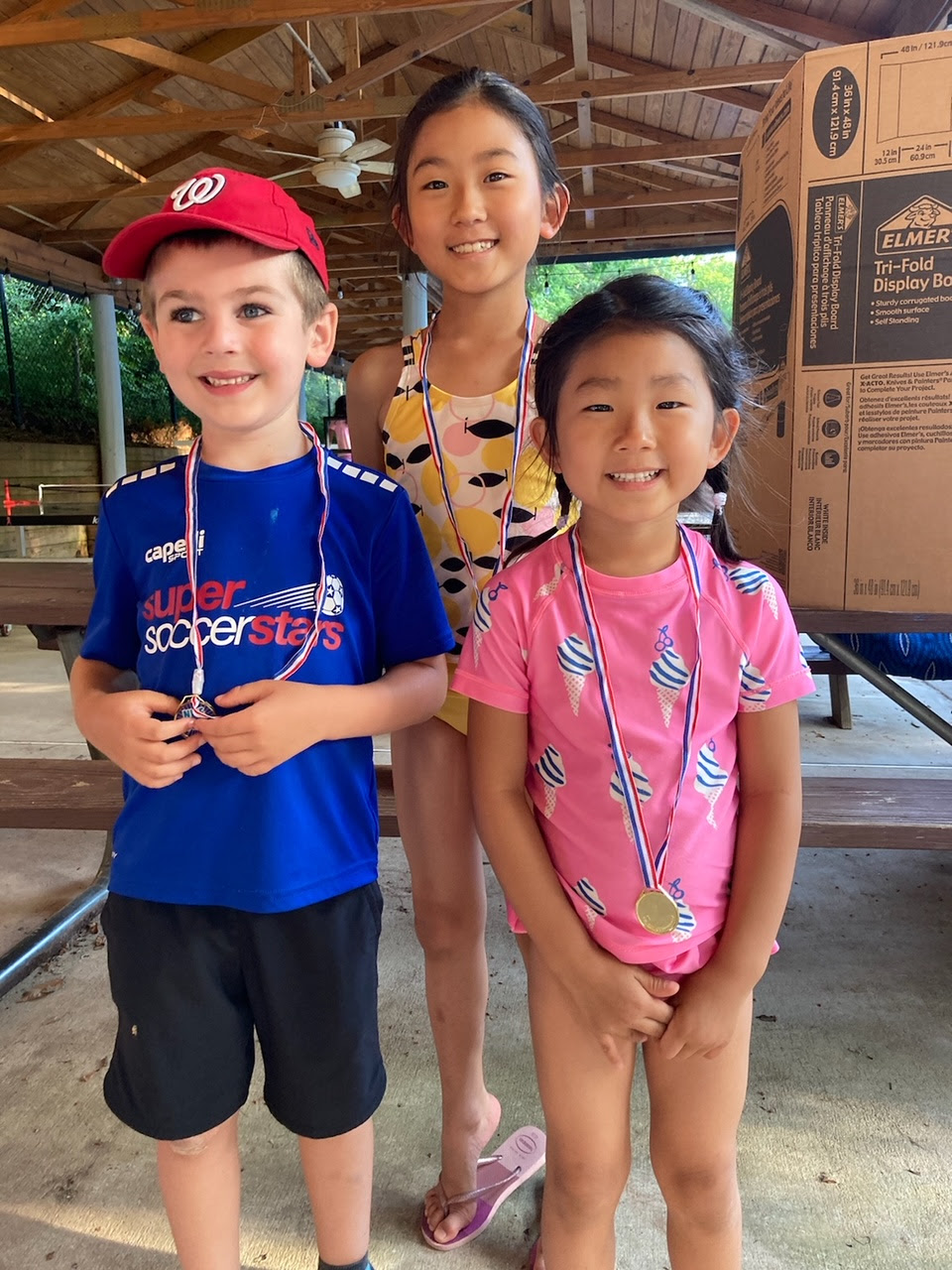 Guest Passes and Party Reservations
We are unable to process purchases of guest passes at our front desk at the moment. We have many members bringing in guests when they have a negative guest balance.  This causes more work for us volunteers to follow up to get payments. Please ensure you purchase guest passes in advance here.  Guest passes never expire and can be carried over to future seasons and refunded when you leave the pool.  And if you wish to host a party of 10 or more guests, please fill out the party request here.
Swim and Stroke Improvement Lessons
We have had a lot of members request swim lessons for their children.  Swim lessons are offered to all members for a nominal fee which is paid directly to a swim coach or lifeguard.  More information and the request form can be found here.
Food Events

Bannockburn Pool is famous for its gourmet food offerings.  Most of these small, immigrant-owned restaurants and food trucks are still recovering from huge financial losses during Covid.  Please consider ordering from them on their visits to the pool to make it worth their while, rather than bringing your own food.  Here is a line up for June:
Sat. June 11 District Falafel Food Truck 4-8 pm, Middle Eastern.  Pre-order and walk up
Tues. June 14 Foodhini Drop @ 6 pm. Pre-order Only
Sat. June 18 El Cumpa Chilean Food Truck, 4-8 pm. Pre-order & walk up
Tues. June 21 Taqueria Habanero Drop @ 6 pm. Pre-order Only.
Sat. June 25 Pepe- Jose Andres Food Truck, 4-8 pm. Pre-order and walk up
Tues. June 28 Lebanese Taverna Drop @ 6 pm, Pre-order only
Communications & Text Alerts
Sign up for pool text alerts to receive timely notices about weather-related pool closures, changes to hours, food trucks, social events, etc. Opt out of the text alerts at any time by texting Stop as a reply. Feel free to register other family members for these alerts too.
Open your phone's camera settings and point to the QR Code below to sign up. (Just push send with the auto-populated word bburnpool).  Alternatively you can text Bburnpool to 662 200 4303 to subscribe.

Also, please add info@bannnockburnpool.com to your email safe list.  We communicate regularly with our members from this address throughout the summer.
Lap Swimming
We apologize to some of our members who have been unable to swim laps in the late evenings while swim and dive teams have been taking up most of the pool.  We expect there to be more availability when we open for extended hours after June 20. Quieter times tend to be 10:30 am to 1 pm daily and late evenings of weekends.  We are now encouraging members to share lap lanes (2 per lane).  If you find all lanes full, please ask the guard to bring the white board out to establish a queue. In instances where other members are waiting for a lap lane, we ask swimmers to limit lap swimming to 30 minutes.
Thank you,
Your Volunteer Board of Directors
https://bannockburnpool.com/wp-content/uploads/sites/4/2023/02/bannock-logo.jpg
0
0
Shareen Joshi
https://bannockburnpool.com/wp-content/uploads/sites/4/2023/02/bannock-logo.jpg
Shareen Joshi
2022-06-13 09:41:07
2022-06-13 09:41:07
Pool News — June 10, 2022